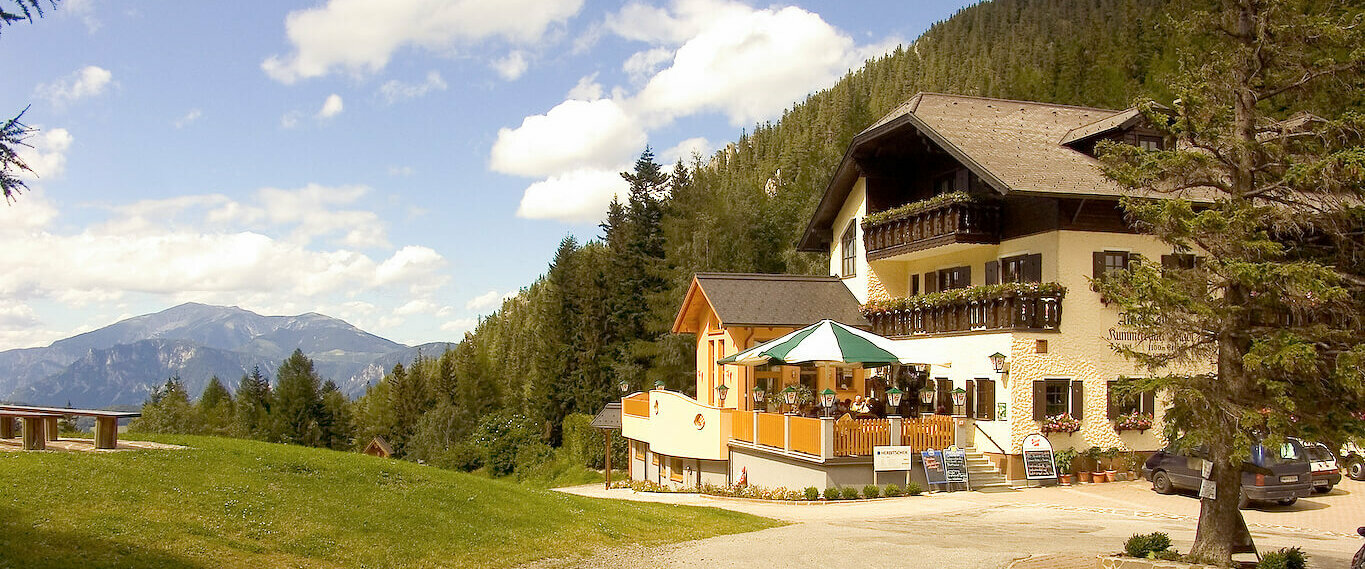 Hiking & Nordic Walking
Our landscape has to be experienced! With all your senses.
You will love the crystal-clear air and the untouched nature.
The "Sonnwendstein" is ideal for experienced hikers, with a walking time of approx. 2 hours.
Thanks to its magnificent view, the "Großer Otter" is also a popular destination. The walking time is about 2 hours.
We also recommend a trip to the popular pilgrimage site of Maria Schutz, which takes about 1 1/2 hours to walk.
An extensive hiking route takes you to the Semmering, with a walking time of approx. 3 hours.
A comfortable circular hiking trail of 6.5 km takes you via the highest mountain farm in Lower Austria, the Morgenbesser family, in the direction of the "Alpkogel" via the former "Schwarzenberghütte" and back to our hotel. Walking time: approx. 2 hours
Under no circumstances should you miss the "Wittgensteinweg", which was named after the famous philosopher Ludwig von Wittgenstein and leads directly to the center of Trattenbach after a walking time of approx. 1.5 hours.
The marked hiking trails can of course also be used with Nordic walking equipment.

The Health Benefits of Hiking
Positive effect on cardio
Improvement of the metabolic situation
Weight reduction
Positive neuropsychological effects
Positive effects on blood composition


Horse Riding
The Lechner horse farm, which is located 300m from the center of Trattenbach, provides you with cross-country trails, guest horse boxes, a riding arena and a dressage arena.
The Lechner family also offers its guests riding lessons.
Children love their petting zoo, which not only includes horses but also houses sheep, goats, dogs and cats.
Fun Court
You can do a variety of sports at the "Fun Court", which is located right in the center of Trattenbach. The most popular activities are football, volleyball and basketball, but badminton can also be played on this court.
In winter, the fun court is converted into an ice skating rink. It offers the opportunity to ice skate and play ice hockey.
The Fun Court is provided by the municipality of Trattenbach and is freely accessible to its visitors.


Fishing
In the nearest district of "Anger" is the "Wechselforelle Schlager" fishing center with its two natural ponds, which have drinking water quality, and different types of fish you can catch.
Cross Country Skiing
Our hotelis the ideal starting point for the"Wechsel-Panoramaloipe" panorama slope. The entire slope network is 90 km long and offers ideal conditions for both techniques, skating and classic cross-country.
The slope network offers a unique panoramic view of the Schneeberg, the Raxalpe, the Wechsel area and the surrounding regions.
You can find more information at www.loipeninfo.at


Ski Touring
Relatively easy tours lead you to the "Sonnwendstein" or further to the "Hirschenkogel" - Semmering.
Skiing / Snowboarding
Ski areas near us:
Feistritzsattel (Dissauer) – distance 15 km
St. Corona – distance 20 km
Arabichl-Kirchberg – distance 20 km
Semmering – distance 25 km
Stuhleck - distance 30 km